Okay, where do I even start? This was a complete roller coaster of a book and I honestly don't know how to feel. Ruin and Rising is definitely my favorite of the three books in this series and I think it wraps everything up so well, although I'm definitely intrigued to read more stories taking place in this universe.
Plot
After the battle at the Little Palace, Alina and her friends are stuck with the Apparat underground, while the Darkling rules Ravka from his shadow throne. Under the Apparat's protection, Alina feels trapped, her power buried far underground.
Making her great escape, Alina and her friends get out of the underground tunnels and caverns that the Apparat is keeping them in, heading towards the surface where the Darkling rules and could easily hunt her.
As the connection between them grows stronger and stronger, both sides are ready for war. Alina gathers her allies, new and old, preparing for the battle that could either save or destroy the world.
Characters
Alina continued to be an amazing goddess in this book. It was so cool to see her develop into someone strong and confident from someone who was practically invisible. She's changed into a different person and her experiences have made her better. While she's very much still controlled by the power of the amplifiers, she knows what she has to do and she's noble enough to sacrifice herself for the cause. I think her character is really underrated and I find myself really understanding her and every decision she makes.
"They had an ordinary life, full of ordinary things – if love can ever be called that."
Mal was also a character I quite enjoyed with a lot of twists and turns thrown in there. I was shocked to find out his role in this entire situation and it was so cool to me that he'd been with Alina all along. Their relationship is something I couldn't help but admire and adore, especially because they keep coming back to each other. Despite their differences, Mal and Alina were made for each other.
Let's talk about Nikolai. Nikolai has been my favorite character since we met him. His mysterious and sarcastic personality adds so much to the book and I love seeing his and Alina's friendship develop and grow. While this is all great, Nikolai really suffered in this book, at the hands of the Darkling and I have to admit that I was really worried for him. My mind was always asking, "what about Nikolai?" and I'm so happy with the ending that he got. I can't wait to see him in the next books!
"I hope you weren't looking to me to be the voice of reason. I keep to a strict diet of ill-advised enthusiasm and heartfelt regret."
The Darkling was also kind of a mystery to me in this book. I feel like I could've used a lot more time with him, but it also kept me in suspense with the way that Alina and the Darkling would communicate. I'm not going to lie, I loved the Darkling and his character. His story was so tragic and beautiful and I can't deny that I love the Darkling and who he is. He's a misunderstood character.
Setting
Travelling Ravka, we once again pop up in different places on the map. Starting out the book, Alina and her friends were in the White Chapel which was pretty creepy, cold, and dark. I'd never want to visit there and it seems like a horrifying place to build an army.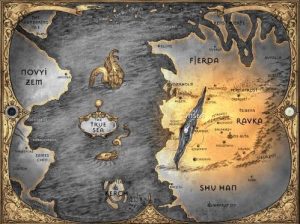 After finally meeting up with Nikolai, the "palace" he's built sounds absolutely beautiful. Mountains were cold, sure, but it sounded stunning and I can't deny that I'd love to see it properly.
Finally we see more of the Fold which is never welcoming or kind to its visitors.
Writing
Bardugo's writing was great for me in this book. Previously I'd struggled with the descriptions from her settings, and characters, however, I was perfectly happy this time around. I think that I've gotten used to her writing style a bit more and it's giving me the freedom of imagination and seeing where it takes me.
In Conclusion…
An amazing conclusion to an intense series that I absolutely loved. I can't wait to continue with the books in this universe and see what happens next!
Rating: 5/5⭐