I really enjoyed this book! It took me quite a while to get into it, possibly because I was in a book slump, however, the characters were so funny, the plot was intense and it was definitely my kind of mystery.
Plot
This fantasy book takes us into a world where the Fae are hidden from humans. Gruesome murders are taking place that threaten to expose the fae to the human world, and who else to solve the crime than four teenagers? Obviously, it has to be them.
Arlo is an ironborn, meaning she's half fae and half human. She begins the book in her "Weighing" which determines whether or not she is worthy of being a fae citizen. If she isn't worthy then her memories of magic and the fae are wiped and she must live in the human world. Following Arlo's story, we see her go to human school and go about her daily life until she encounters "the Dark Star", an immortal, exiled fury who is now forced to live on Earth despite her magic and mysterious attitude. We continue to follow Arlo and her story as she encounters trouble again and again with only the mysterious Dark Star to save her, that is, until she realizes that she's destined for much greater things and a deity reaches out, giving her a magical die, attempting to make Arlo their "hollow star", a hero.
Meanwhile, we see Vehan and Aurelian, a prince and his guardian, work their way through the clues of the murders happening in Nevada. The two come across goblins and a cryptic man who saves them time again.
Eventually, the two groups meet up and form a strong group of allies, coming to the conclusion of their search of the murders taking place to uncover the secrets of the Faerie Courts, and some secrets that should have stayed buried.
Characters
Let's start with Arlo because she was my favorite. Arlo was adorable and she must be protected at all costs. I feel like I could totally relate to Arlo. She was constantly getting into trouble despite the fact that she tried to avoid it at all costs, and she felt like she wasn't destined for anything great. Arlo is totally a relatable character that I so easily fell into. She was unsure of herself and her power, her standing in the world was constantly questioned and she felt like she had no worth, however, we see her develop into a stronger character that's destined for great things. She just deserves the world.
Nausicaä was also a character that I really enjoyed getting into. Her attitude towards everything was just hilarious. It's clear to see that she's suffered a lot including the loss of her sister, but she definitely hides it very well. I honestly think she's one of those characters that can do some seriously wrong things but I'll still love her anyways. She's just amazing.
Nausicaä and Arlo's relationship was also so adorable. Arlo is definitely one of those characters that's super shy, and you can tell her innocence was present in the few scenes that their relationship developed. I feel like they're complete opposites in terms of their personalities which is what makes it such an interesting relationship that I can't wait to see develop a lot more. Their friendship was also really cute and I love how protective Nausicaä was of Arlo throughout the entire book.
Vehan and Aurelian were nice additions to the story too, however, I feel as though they weren't the main part of the story. I liked seeing their interactions with each other and I think they added a lot of valuable information to the overall plot line too. From the epilogue, I think Vehan will be a lot more present in the next book.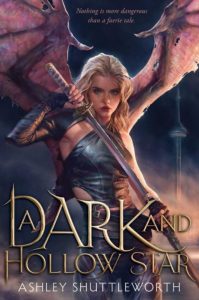 Setting
Arlo and Nausicaä's story takes place mostly in Toronto. As someone who lives in Toronto, I kind of loved having this as the setting. I feel like it definitely was the perfect place for all of the murders to occur and it was mysterious enough that I can totally imagine the fae courts are hidden from us humans right now!
The other setting was Nevada with Aurelian and Vehan which was also pretty cool. I have to say I love the way that the factory was described. I could imagine everything that was happening and the factory totally creeped me out.
Writing
As someone who hasn't read any of Ashley Shuttleworth's books before, I was pleasantly surprised. I didn't really know what to expect going into it, and I was happy with the writing. It did take me quite a while to get into and I didn't feel super motivated to read all the time, but I'm thinking that it's because of the book slump that I was in before reading this book.
I think that the writing was perfect for this story. We got to see different characters find out different information regarding the murders, we got to see a TON of representation (which I LOVED), and it was overall pretty easy to follow along with.
In Conclusion…
This was a good book. I enjoyed reading it and I think that it got me out of a huge book slump. I loved the representation of LGBTQ+ characters, I loved the murder mystery aspects, it was just an overall great read.
Rating: 4/5⭐