This book. I'm blown away. Honestly, Erin never fails to surprise me. Her writing is growing better with each story I read and when I tell you guys I read this in like a day, I'm serious!!
Plot
Recently widowed Cali is working hard to maintain her life as a mother while working off mountains of debt that her deceased husband has left behind. The catch? Her husband was a complete ass who did nothing for her or her family.
The debt that Tommy left behind is growing by the day, and Cali has no choice but to resort to other methods of making money, in other words, OnlyFans.
As Cali learns that her body is in her hands and Tommy never really was the husband that she made him out to be, she meets Bear, president of the Dublin charter of the Hell Hounds.
Cali is immediately taken with Bear and while they have their differences, the two come to a business agreement that can only end in intimacy. Can Cali maintain her role of being a mother while also exploring herself with Bear?
"Because in this moment, I wasn't a mother, I wasn't a widow, I was a woman unleashed."
Characters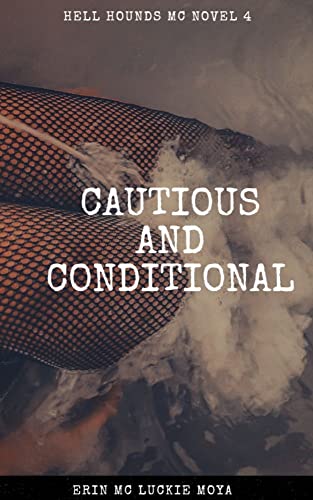 Cali was so refreshing as a character. Her emotions are so raw and real, and they're shown for everyone to see. It's so different from a character that's been born into the Hell Hounds life like Layla, Sadie and practically Vee. She learns about what it is to be part of the club and what her role would be. It's so cool to see her discover more about the bikers, just as us readers are learning more too!
She's also super kinky? Like how could you not like her? Cali is confident and knows herself and her body. It's so empowering as a woman to read about someone who also knows what they like and who they are.
Bear was, well, considering this is an Erin Mc Luckie Moya book, he was perfect and I was immediately in love, thanks, Erin for yet another book boyfriend! His banter with Cali had me ON MY KNEES, but his kindness over her had my heart beating faster. I love him, he's so understanding, yet possessive in the best way.
Setting
The book was between Dublin and Scarborough in the UK, but I feel like the only significance was the fact that Cali had to travel sometimes. Other than that, the setting wasn't super important in the book, but it added a little bit of time for our main character to have time to herself to think during travelling!
"Tell me to stop, Cali, because if you don't, I'm going to take my time with you and teach you how to receive pleasure."
Writing
As I mentioned earlier, Erin's writing ALWAYS blows me away. I'm so thankful for the chance to read & review the book, especially when I'm completely captured by the story and characters by basically the first page!
In conclusion…
If you haven't already added this book to your TBR (or the series to your TBR), then you're seriously missing out! I've loved every book in the series so far and I'm so excited to see what happens next!!!
Rating: 5/5⭐️