I don't even know where to start with this book. This series has been quite a journey and I'm planning to do a separate post just to talk about my love of it, but this book was incredibly important to how the series ended and wrapping the entire thing up.
Plot
With Dumbledore dead, it's up to Harry and his two best friends, Ron and Hermione, to find the rest of the Horcruxes and defeat the dark wizard named Voldemort.
They embark on a journey traveling to places that are important to the Dark Lord and finding objects that are significant in his life. On the run from death eaters that have taken over most of the wizarding world, Harry and his friends are left to their own devices and the education that they've received in a few short years at Hogwarts School of Witchcraft and Wizardry.
It's up to the three of them to defeat the Dark Lord once and for all, but can they figure out where the rest of Voldemort's Horcruxes are or will they be too late and let their friends and family die fighting for their honor?
Characters
Harry has changed so much since the first book of Philosopher's Stone. He isn't a young boy anymore, he's a young man who is tasked with the inevitable fight against a dark lord that will stop at nothing to harm him. It's a difficult thing for a young man to go through, especially with all of the loss that he's suffered and the extreme trauma that has taken place in his life, however, Harry is able to overcome this and stay focused on the task that Dumbledore provided for him before he died. While there are definitely times throughout the book where Harry felt alone in the world because of his dark connection with Voldemort, I feel like he really took it in stride and was able to use his friends to stay close to people.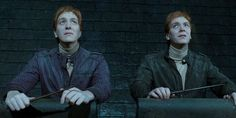 As usual, his friends have helped him throughout the entire journey and he wouldn't have been able to survive without Hermione or Ron. These two only get smarter with each book. Hermione obviously has the brain smarts of the group but there were so many times when Ron surprised me with a brilliant idea or some comment that made me think he was super smart. They pretty much added the entertainment of the entire book and I love that they were so helpful in keeping Harry sane throughout their journey.
Writing
As soon as this book started it was super intense and I was immediately captured by the writing style. I wasn't surprised to have such a deep story right at the beginning because I knew that this was going to be the huge ending, but it was so capturing and interesting to read about.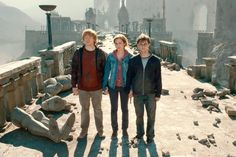 In Conclusion…
I wish I could reread this series for the first time. I cried, I laughed, and I fell in love with these characters. I never want it to end. Harry Potter is one of those series that feels like home and I'll never get enough. 
Rating: 5/5⭐