This was a fun book! I have to admit, after reading the entire grishaverse, I was in a bit of a slump, and this was such an easy read to get me out of it. While it did take me quite a while to get into this book, eventually I was sucked in and really enjoyed it!
Plot
When Prudence Barnett, a chronic overachiever, gets a C in her biology class, she's quick to cast the blame on her partner Quint Erickson.
The two of them launch into a summer of Prudence figuring out a way for them to redo the project when the universe grants her the power of karmic justice, allowing her to squeeze her fist and give punishments to those who are in the wrong.
As Prudence spends her summer working hard, she discovers secrets about her biology partner, and a whole new life awaiting her as she uses her karmic power to walk through life.
I think that this plot was really good, but it could have been written way better. It took me about 53% of the story to actually get into it, and I was kind of just in it for the Quint content instead of the almost non-existent plot. It could have been executed way better, especially with the whole karmic justice power. Instead, it was kind of the smallest part of the book and the plot was showcasing the business skills of Prudence.
Characters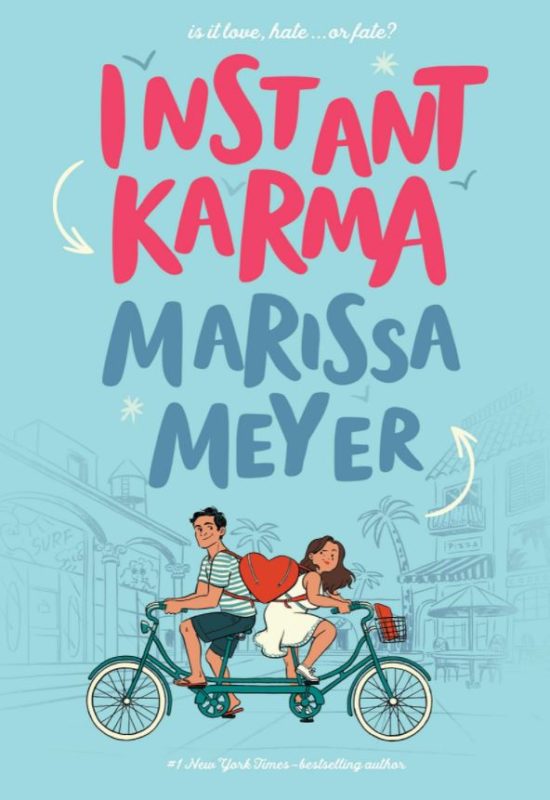 Prudence was an okay character. I feel like she was a bit one sided, especially since her one goal throughout the entire book was just doing this one project. Ultimately, I felt like she could use a bit more of a personality, especially as the main character. Sure, we get the whole, "I'm a nerd and overachiever who isn't into partying" aspects of her, but then she kind of explains that she can have fun and it bothers her when people say she can't but she doesn't actually do much about it. She kind of just let's them think about her despite it bothering her which just kind of annoyed me.
Quint was pretty much the only character I really liked in the story. I feel like he had such a great personality and the fact that he loves to save animals and wants to do something as exciting as underwater photography in the future is something I really enjoyed. He's pretty much the only thing that kept me reading, especially because I was wondering how someone as fun as Quint could get with someone who barely has a personality like Prudence.
I was fine with the other characters but none of them were super interesting or great at attracting me to the story. I feel like they were just there, and it wasn't anything special and they didn't add too much to the story either.
"Actions make a person good, not motives.
I'm not sure I agree with that."
Setting
The setting was something I actually quite enjoyed. The main setting was Fortuna Beach and it seemed like the perfect place for a book about saving sea animals. It also added quite a bit to the overall plot, like the beach clean up and certain aspects of the boardwalk.
Writing
Meyer's writing was okay. I had nothing against it except maybe the personalities of her characters. I was able to stick with it and I was able to finish it, but it definitely isn't my favorite book and I kind of expected a bit more in terms of the romance because it kind of just happened.
This was kind of a slow read which annoyed me at times, but I'm happy with the ending and the way that the overall plot was portrayed, although I do feel like the majority of the plot was closer to the end of the book.
"I believe I'm a good person. But what if I'm not?"
In Conclusion…
This was a fun read, but I'll probably not read it again, at least not for a while. I think that you need a lot of patience for this book but it overall kept me interested and I did finish it.
Rating: 3/5⭐