This book was such a fun read. As I am currently buddy reading the Harry Potter series with a friend on booksta (check me out here), I needed another book to binge read in my free time. The Fighter's Den series has been on my Wattpad list (find my lists on Wattpad here) for ages, so I was super excited to launch into it, starting with the novella!
Plot
The South Bloods are the greatest and most feared gang that haunt the streets of New York. Greg Resnick, better known as Raze, is the leader of the South Bloods. That is, until he meets a woman named Laura who turns his life upside down.
Laura and Greg embark on a secret romance, hiding for her safety from the gang that would murder her in cold-blood if they were found out. Greg realizes that his life is not what he wishes for, and this woman who has completely changed his life by just smiling at him, is what he wants.
Greg must do what he can to leave behind the life of a criminal gang leader and become the man that Laura deserves. Is this a fight that he can win or will blood be spilled in the end?
Characters
It was so interesting to follow Greg's point of view in this book. As someone who is just getting into the "gang leader" type of genre, I really enjoyed this introduction to the world. I feel like Greg is such a softie on the inside but he'd never show it unless it was with Laura who I also adored.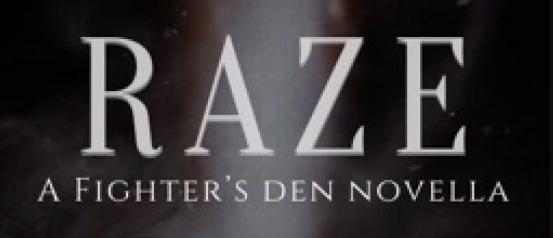 Laura's character was such a change from Greg and the toughness of him. She was shy and gentle, kind and loving, and it was so nice to see someone who could take care of Greg when nobody else would. She was such a genuinely good character that was written so well.
Mitch was also a character I quite enjoyed. While he wasn't the main character, he did his job well as a side character and I liked seeing the relationship that he formed with Greg throughout the book. It was funny to see them interact with each other and be softer when they're both in a serious criminal gang.
Setting
I feel like the setting did it's job well. This book takes place in New York City and that was all I really needed to know. Every place that the author took me, I was able to interpret perfectly just by knowing it was in the big city. It was also the perfect place for a criminal gang to be haunting the streets so I really enjoyed seeing them run around the city.
Writing
I wasn't sure what to expect when going into this series because I don't usually read on Wattpad unless it's fanfiction. Most of the time fanfics have a writing style that sets them apart from other books, which is what I was worried about here. But that wasn't the case at all.
I was pleasantly surprised with Amber Isabelle's writing. It was so easy to get into and I was hooked by the first few lines. Each character was well-written, their relationships developing before my eyes. The banter made me laugh, the emotions made me cry and really feel everything.
In Conclusion…
I really enjoyed this book. It was short and easy and such an amazing introduction to the "gang leader" type of genre. The writing was well-done, and I enjoyed each character as they developed throughout the novella!
Rating: 4.5/5⭐