What a complete and utter roller coaster. I highly recommend reading this book in one sitting and getting emotionally attached to all the characters just to go through the book and its unreasonable range of emotional distress. Just kidding, it will probably hurt like it's killing me right now.
I don't even know what to think or where to start. This book was better than Shadow and Bone but it still left me with a few things that I needed for the book to be five stars. As I mentioned before, this was an insane roller coaster that I finished in pretty much one sitting.
Plot
After Alina and Mal leave the Darkling on the sand skiffs in the middle of the Fold, they are on the run and being hunted across the True Sea. Alina is haunted with the memories of the lives that she took on that fateful day, causing her to wake up to severe nightmares. The strain of keeping her identity a secret and not using her power eats away at her and her body becomes weaker with every passing day.
However, she can't outrun the past for long. The Darkling soon appears and takes Mal and Alina captive with a new power gained from the Fold. His dangerous and terrifying plan will test everything Alina knows about Grisha power and the natural world.
Saved by a mysterious and sarcastic privateer, Alina returns to Ravka with the hope that she can save her country from the Darkling and his wicked plans, all the while growing farther and farther from the comforts of Mal's arms.
Characters
Alina is such a cool character. She's grown from a scared orphan girl who felt invisible, and into a powerful saint-queen who has the world in her hands. I feel like she's such an easy character to follow and I find myself constantly relating to her and the decisions she makes at each turn. She's also just so awesome? Sun Summoner? Um, yes please. Like how cool is it that she can literally summon light? Just me freaking out over her and her crazy awesome power? Okay, that's fine, but just know that she'd save us if she could!
I also think that power is kind of taking over Alina, that's one thing I have to say. It was scary to me that she was almost leading the Grisha in the same way, sort of? Yeah, she got them all to sit together instead of in their respective groups, and sure she asked the materialki to train, but she acted out of power in a lot of instances which was kind of crazy because she's fighting the one person who does that.
When people say impossible, they usually mean improbable.
I'm excited to see where Alina's character goes in the next book, especially after the ending here. I feel like she kept being driven more and more by power each chapter and while it did make her confident and a queen, she was also turning into the one person she chose to hate, so I'm definitely interested in seeing how she'll turn out and act in the next book.
Mal was a character that I'd been warned I was going to hate. I'm sorry, what is there to hate? Yeah, he was a bit annoying at times and I think he needed to realize that Alina was growing into a person beyond who she used to be when they were kids, but of course it's going to take time for him to adjust to the new and improved Alina, and of course he'd have his doubts about losing his childhood best friend to a different version of her. I think that we need to cut him a bit of slack here. He doesn't belong with Grisha and Alina pretty much throws that in his face. Sorry, Alina, but Mal really doesn't belong there and it was obvious he wasn't happy but he was doing it for you!
I think their relationship is something I really love. It's so wholesome and I've always loved the childhood best friends to lovers trope and this depicts that perfectly. They also always find a way back to each other and it's too cute! Of course, they definitely had their ups and downs throughout this book but I'm interested to see where their relationship continues especially with so many things left unended.
The Darkling is a character that I still somehow love even though he's a villain? He's so cool and his power is so intimidatingly awesome. I feel like we didn't get enough of him in this book and I know I shouldn't be wishing for the villain to come and destroy the main character's happiness, but I am, and I love him and I need more Darkling content!
"I've seen what you truly are," said the Darkling, "and I've never turned away. I never will. Can he say the same?"
Okay but let's talk about Nikolai Lantsov. I'm sorry, how did I not read this series before? How have I gone this long without NIKOLAI LANTSOV?! This amazing man and everything that he is, is just too much for me to handle. I can't believe I've gone this long without knowing this amazing character who uses sarcasm and acting as a coping mechanism. There's so much to uncover when it comes to Nikolai and his character is something that I'd love to explore in later books. I feel like he's exactly what I needed from this series.
I took a breath. "Your highness-"

"Nikolai," he corrected. "But I've also been known to answer 'sweetheart' or 'handsome.'
Setting
We started the book out with Alina and Mal on the run and they were in Novyi Zem. This seemed like a decent enough place but it isn't as extravagant or beautiful as Ravka. I feel like I didn't get a full grasp of this setting before we left it and it left me a bit empty.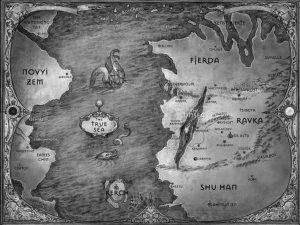 After leaving, we travelled the True Sea which seemed pretty mysterious. I mean I expected it to be a sea like we have in our world, but there was a sea whip and now I'm wondering what other types of creatures lurk in the depths of it.
Eventually we got back to Ravka and the familiar Shadow Fold and Little Palace. I liked both of these settings and the Shadow Fold is as intimidating as ever so I'm excited to see what will happen there next.
Writing
Bardugo's writing was really interesting. It definitely kept me intrigued throughout the book and I didn't want to put it down, but there were a few issues I found with the descriptions. I feel like I needed more. Some of the characters lacked depth and some of the settings left me empty. I needed more from the descriptions so I could understand everything better and that's what left me empty-handed in terms of this book.
That being said, the writing was easy to follow and get into. I was on the edge of my seat throughout intense scenes and I didn't want it to end.
In Conclusion…
I loved following Alina in her next step against the Darkling. I can't wait to start the next book and see what happens next in her insane journey!
Rating: 4/5⭐