I started this book as my June book of the month for a book club I recently joined. I really thought I was going to struggle to get through it, but as soon as it began I could not put it down and just had to keep reading. I have to say, I was wary at first because I'm not usually into books with clans or warriors, however, I really did enjoy it and I wish there was a sequel that surrounded the same characters.
Plot
Sky in the Deep revolves around 17-year-old Eelyn who finds that the brother she believed dead for five years is actually alive and living with an enemy clan of Eelyns Aska clan, named the Riki. The book gives a lot of history surrounding the long-lasting feud between the Aska and Riki and how it affects our main character Eelyn. After seeing her brother, Eelyn is captured by the Riki clan and taken to their encampment which is where most of the story takes place.
I think the storyline of this book is just amazing. It is a different and new type of story to me, but I really enjoyed the way that it was laid out. With Eelyn at first being against the Riki clan due to her religious beliefs and loyalty to her own clan, she realizes just how similar the two clans are and is able to join them together.
I also really enjoyed the way that the story began so abruptly and got right to the point instead of taking a few chapters to introduce the character we follow. As the book went on, we were able to learn enough about the characters to love them without the usual boring long chapters at the beginning.
The plotline for the book was easy to follow and I like that I can tell you exactly why these two clans had been fighting for practically an eternity.
Setting
The setting of the book was also really well written. We began the book with the Aska clan on a battlefield called Aurvanger where Eelyn discovers her brother is alive. After she is captured though, we go to a Riki base named Fela where practically everyone is an enemy to her. She ends up living in a small house with a warrior named Fiske and her brother Iri. This is the main setting in the book and I have to say that it was described perfectly. I could imagine the loft where Eelyn was meant to sleep and the ritual houses where they practiced their religious beliefs.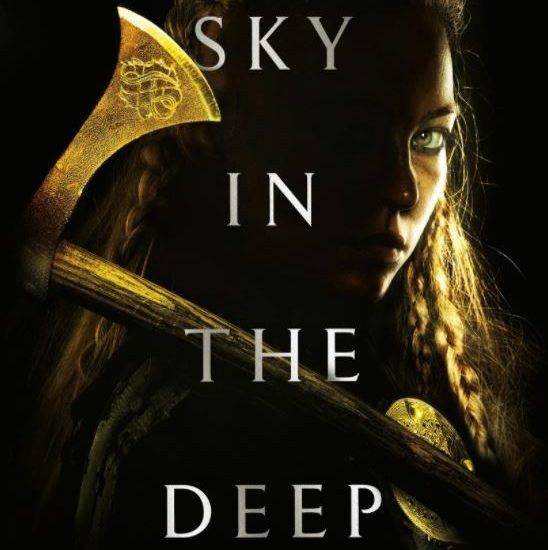 I really liked the setting of the Riki base because it was really easy to visualize and I could easily see where the characters were. I think that the setting perfectly added to the plot and the character's actions.
Characters
I also really loved the development of all of the characters in the book. Eelyn's character development was really well written through her change of heart against the Riki clan. Her character development contributed to the main plot and eventually gave the ending exactly what it needed. Her character was super easy to follow and love through her loyalty to her clan, her brother, and eventually the Riki clan.
Eelyn's clan also had her father Aghi and best friend Myra who was supporting her with every step of her fight until her proposition of joining the two enemies together to fight their battles. These two characters also showed growth in changing their minds and being open enough to try which gave the clans the chance to survive.
There was also the Riki family that Eelyn was living with that also became a second family to her. Fiske, her capturer was written really well and it was easy to see how he felt about Eelyn and how his protective instincts come out when it comes to his family and Iri. Fiske was easily my most favorite character. His protectiveness over his family and his strength really showed throughout the book and it contributed heavily to the final plot lines.
Writing
As I said before, the writing was impeccable. I honestly really loved the way the book was laid out and how it was written. The characters were easy to follow and easy to love. The writing pace stayed the same and I honestly found it to be an easy read.
In Conclusion…
I would definitely recommend this book. It is an easy read, and if you're looking to try a new type of book surrounding warriors, clans, and religious feuds, this is the one for you. The characters are easy to get to know as their loyalty lies with the ones they love, and everything is explained really well. I really wish there was a sequel to the book or maybe even if it was part of a series, but I am definitely glad I read it and it is high up there with my favorite books.
Rating: 4/5 ⭐