First of all, I'd like to thank Algonquin Young Readers for giving me a copy of this amazing book in exchange for an honest review. It was such an interesting story that had me reading with any spare second I had. The story was so different from anything I'd usually read, but I have to say that I really liked it!
Plot
The Torres sisters had always dreamed of escaping from their small San Antonio neighborhood, filled with old San Antonio families. Their widowed and needy father pushes them day by day to want to leave and escape from this life, but their dreams die when Ana, the eldest Torres sister, falls to her death from her bedroom window.
One year later and Jessica, Iridian, and Rosa, the three Torres sisters left, are still consumed by their grief and memories of their sister. That is, until strange things begin happening around their house: laughter, mysterious shadows, writing on the walls.
The sisters begin to wonder if maybe Ana has come back to haunt them? And if she is haunting them, then what message is she trying to send?
Characters
I'm going to start with Ana here just because we only saw her for a brief time, but the entire book was centered around her. I feel like Ana is one of those girls who everyone thinks is perfect, but she's not. She isn't perfect. She smokes and sneaks out and she's rebellious, and when it came down to it, it's what got her killed. I don't have a particularly strong opinion on Ana just because she wasn't particularly present in the story, however, I feel like once we figured out the message she was trying to tell her sisters, it's clear that her one goal in life was to protect them and get them out of the neighborhood that kept them trapped.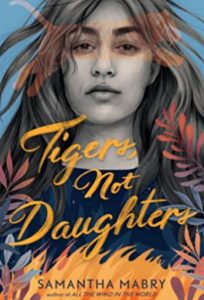 Okay, Jessica was the second oldest sister and I feel like she was a character with a lot of depth. At first I hated her because she kind of acted like a brat, but I feel like there was a lot to uncover when it came to her and her character and who she really is. Eventually the little things she did, like buying Iridian a new notebook, really won me over. She was also dealing with a lot of her own stuff including the death of her sister. It was clear that Jessica took Ana's death pretty hard. Her coping mechanism was to become Ana. Her clothes, her perfume, makeup, everything, she copied Ana and tried to become like her. It was her way of being close to Ana and while this did sometimes get a bit creepy – she ate Ana's hair? – it also was able to show me that Jess was dealing with the loss in her own way.
Jessica was also dealing with an abusive relationship with her boyfriend John. This was a whole other side of Jessica that I could really understand. She felt trapped and not worth fighting for, and it was definitely hard to see, but it put a lot of perspective on her character, making me understand her a lot more.
Iridian was probably my favorite character. She was super relatable and she's also dealt with a lot after her sister's death. Her coping mechanism was caving in on herself and she didn't really speak to anyone. She was bullied at school and eventually stayed home and she would write and read 24/7. I feel like I can relate to Iridian the most out of the sisters. She feels as if she isn't really anything special and isn't worth it, and to be honest it made her such an amazing character that fit so well into the book. I feel like we could kind of see her grow as she got closer with her sisters throughout the book which was so nice to see.
"She wasn't a writer then, or even that obsessive of a reader, so she didn't yet know the pure joy that came along with smelling the pages of books, how a new book smelled like chlorine or how a used book sometimes smelled like cigarettes or tangy breath."
Rosa was also a character I really enjoyed. She was so kind and nurturing and she was always the neutral ground when it came to fighting between her family members. I feel like Rosa deserves a lot more credit than she was given, especially when she sticks up for her sisters without any hesitation. She was such a kind addition to the story that I think was really needed.
Setting
I really didn't like this setting. It was really well-written and I like that I could visualize it easily, but that type of setting just isn't for me. It's small town was kind of creepy and I can understand why the girls wanted to escape.
Writing
The writing was easy to get into and easy to follow along with. It was a great story and the writing fit the type of family drama/ghost story/love story type themes in the book. It was super easy to get completely sucked in, and if (like me), you enjoy reading books all in one go, this is perfect for that. As someone who hasn't read Mabry's books before, I can tell you I was pleasantly surprised by how much I enjoyed the writing style!
"Iridian mourned the absence of her books. She'd find herself reaching for them, involuntarily. She missed the feeling of paper against her fingers. The loss was painful. The pain wasn't in her heart, but in her throat, where words come from."
In Conclusion…
I loved this book. It was so different from my usual fantasy stories and while it did creep me out sometimes, especially because I'm not a fan of ghosts, it kept me completely hooked in the entire time. I was constantly waiting to see what message Ana was trying to send the girls, and on the edge of my seat everytime something serious would happen to the Torres girls.
It was such an easy book to get into, even if you aren't into that kind of genre, and I honestly can't recommend it enough.
Rating: 5/5⭐